NHL Hockey Team Names
In 1917, professional hockey was introduced with four Canadian teams – the Montreal Canadiens, the Montreal Wanderers, the Ottawa Senators, and the Quebec Bulldogs. They called themselves the Ligue Nationale de Hockey (LNH), and as teams began to be added from the USA, it also became known as the National Hockey League (NHL).

The first American team to be introduced was the Boston Bruins during the 1924-1925 season. They were quickly followed by the New York Americans, Pittsburgh Pirates, New York Rangers, Chicago Black Hawks, and Detroit Cougars (now known as the Red Wings).

But World War II had a big effect on professional hockey, and all but six teams disbanded. Those six teams — the Montreal Canadiens, the Toronto Maple Leafs, the Detroit Red Wings, the Chicago Black Hawks, the Boston Bruins, and the New York Rangers — would become known as the "Original Six." Those six teams would be the only teams to play professional hockey for the next quarter of a century.

In the 1960s the NHL expanded, adding six new teams, and continued to expand throughout the 1990s. By the year 2000, the NHL comprised 30 teams.

The 30 teams are divided into two conferences — the Eastern and Western conferences — of 15 teams. Each conference has three five-team divisions. The end of the season culminates in the NHL championship, which is known as the Stanley Cup playoffs.
National Hockey League (NHL) Teams
Eastern Conference Teams:
Atlantic Division

Northeast Division

Southeast Division
Western Conference Teams:
Central Division

Northwest Division

Pacific Division
Related Hockey Website
---
Copyright 2004-2022 Zeducorp.
All rights reserved.

NHL is a registered trademark of the National Hockey League.
The team names are registered trademarks of the teams indicated.

NHL Hockey Teams - Hockey Team Names
Related Images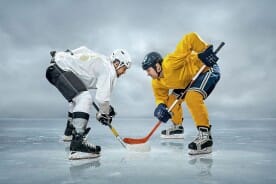 Ice Hockey Players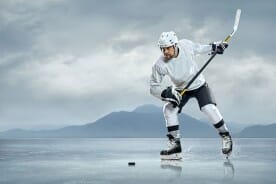 Ice Hockey Player On A Frozen Lake