NBA Basketball Team Names
The game of basketball was born in a school gym in Springfield, Massachusetts. The weather was bad, children were bored, and a teacher hung two peach baskets on either side of a room and invited children to shoot a ball into it. How far we've come since then!

By the 1920s, there were hundreds of men's professional basketball teams in cities and towns. Leagues came and went, and players switched loyalties like the wind. Early teams included the Original Celtics, New York Renaissance Five, and the Harlem Globetrotters.

In the 1920s the sport was popular with women as well, and one well-known player was Babe Didriksen. Teams such as the Golden Cyclones and All American Red Heads sprung up throughout the United States.

In 1946 the Basketball Association of America was formed, and that same year the first game was played in Toronto between the Toronto Huskies and the New York Knickerbockers. In 1949 the organization officially became the National Basketball Association (NBA), which today is still the top professional league in the world.

In 1997 women came back on the scene with the formation of the WNBA. In 2001 the NBA formed a developmental league called the NBDL, which currently has 15 teams.

Today the NBA has a total of 30 teams separated into five sections — Atlantic, Central, Southeast, Southwest, Northwest, and Pacific.
NBA
NBA Basketball Teams


NBA basketball teams. Official NBA site features basketball players, statistics, team standings, schedules, game tickets, basketball newsletters, and game highlights.
www.NBA.com
NBA Basketball Teams:
---
Copyright 2004-2022 Zeducorp.
All rights reserved.

"NBA" is the property of NBA Properties, Inc.
The names of the NBA teams are the property of NBA Properties, Inc. and the NBA's member teams.

NBA Basketball Teams - Basketball Team Names
Recent Basketball Team News
---
Related Image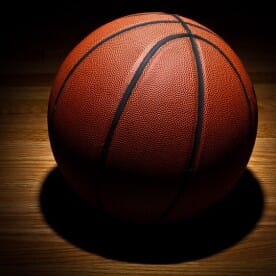 Illuminated Basketball